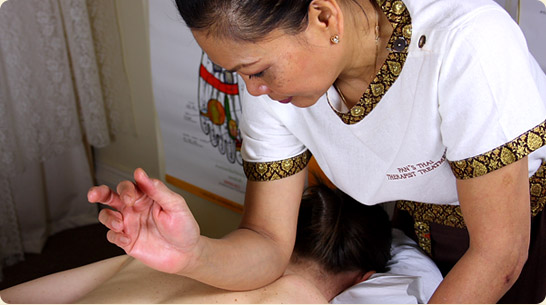 " ... She is one of the most gift healers I have come across ... "
read client testimonials
Therapeutic Thai Massage in North London
Thai Massage is a deeply healing and relaxing experience. It is highly recommended for sports injuries, stress relief, and general health.
Pan's clients are from all walks of life; they include professional sportsmen and women, martial artists, dancers, executives, and women recovering from pregnancy.
Pan's Thai Massage can help with:
Trap nerves, physical injuries, migraine, tennis elbow, lower back pain, slip disc, sciatica, knee problem, twisted ankle, Parkinson's, Stroke recovery, stress, etc.
Traditional Thai massage can also aid recovery after pregnancy, help relaxation, complement meditation, and increase vitality.
Using pressure to relax and heat the entire body, a Thai massage lasts one to two hours. Pressure ranges from very gentle, to very firm, and is applied to the energy points of the body, releasing trapped energy. The practitioner also applies stretching movements to relax, energise, and open up your body, increasing flexibility and releasing tension.
About Pan
Pan trained in Traditional Thai Massage at the school of Traditional Therapy and Pharmacology, Thailand, graduating in 1993.
She comes from a traditional Thai village, and since coming to London has given many thousands of massages over the last 15 years at her North London practise.